09 December 2011
CLEAR Black Area Party
FYI, I personally give a head up to this brand. CLEAR has been one of my favorite hair products and I love their campaigns... Inspiring and classy. They really know how to create a treat for everyone - by doing research and surveys and, I believe, lots of experiments. But their latest innovation (the Nutrium 10 and Pro-Nutrium 10 - I knew that, come on, it's written everywhere!) had their quality spoken at its best. And I really like the way they maintain a good relationship with their customers - they got Facebook page and twitter account (with more than 300.000 likes!) where followers can get real-time updates about everything CLEAR. It was a great event, and I feel sad to miss it, but seriously I kinda wished more brands are getting into better campaign and educative, provoking way to stay connected with the customers. Keep up the great efforts, CLEAR, will be awaiting for your next big steps!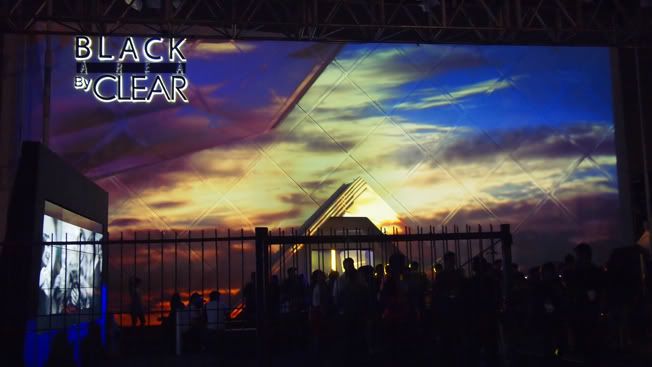 "So yesterday we were invited to this cool event at BLACK AREA by CLEAR, Djakarta Warehouse Project, for the publication of CLEAR newest ambassador!
This event was conducted to celebrate the success of CLEARRelaunch on mid 2011, with its new Technology – Nutrium 10 and Pro Nutrium 10. One of CLEAR latest successful campaign is "Ayo Indonesia Bisa" campaign with an 15mio supports, delivering Clear to win Indonesian Best Social Media Brand in the latest Digital Awards. :)

Kak Cindy Diamondhurts, Chekka Cuomova, Ario Achda and I totally had so much fun spending our Friday night there. And we did took some pictures before entering the venue, and check out that awesome skies mapping & futuristic ambience outside!
As we all know, Clear got Ello & Sherina as their ambassadors and presenting CLEAR's products which are Strong & Soft, Anti Hair Fall, Ice Cool Menthol and Complete Soft Care for women, and also Anti Hair Fall, Complete Soft Care & Ice Cool Menthol for men. And now CLEAR proudly presents their newest ambassador, Agnes Monica! :)
The first thing when we entered the Clear venue, we got this VIP digital wristband that is connected to our Facebook page and used to access free-flow drinks, goodie bags, free hair treatment in 'Clear Your Head' area, and photo booth which your photos will be tagged to your Facebook automatically, cool eh? This is me, Ario, kak Cindy &Chekka, abusing the photo booth!
After Ello&Sherina's performance can you guess who's next? Yes, Agnes Monica! She came out & hit the stage with jaw-dropping stage act as always." The event was super cool. There were so many stylish people wearing black (the dress code) and there are some cool booths, like photo booth, free food and juices (Yay) and one booth where you can get your hair washed and styled by CLEAR.
All and all, it was one cool event to introduce one cool woman for one cool brand.
« Older posts | Newer posts »
STYLE JOURNAL, © Sonia Eryka 2009.
All rights reserved.